I've been an indoor car show kind of guy since I entered model cars in Starbirds Wichita Show in 62.
First entered my Coupe in Starbirds Wichita Show in 67.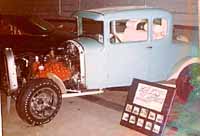 In 70 or so I did some body work on the Coupe and painted it in flatblack and laid on some tape 'pinstripes' thinking it was done.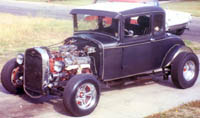 Entered the Coupe in Starbirds Wichita 71 Show and had Starbird come up to me while getting setup in my spot and tells me he didn't want any 'unfinished' cars in the show. He thought it was cheating paying customers to have 'unfinished' cars for them to look at. Heck, I agreed and no hard feelings left the show.
Since I wanted to continue participating in the Starbird Shows I decided I had to do a 'shiny' paint job on the Coupe. So I sanded and filled and sanded and filled and sprayed on a 'shiny' black lacquer paint, color sanded, hand rubbed and all that.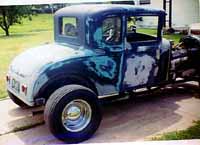 During this time my mother and brother were on hardtimes and were living with my wife and I in our single garage house. I had done all the body work and paint on the Coupe in that garage.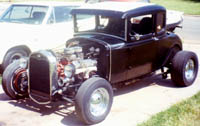 That single garage was a little wider than most and had a convenient place along the side wall for my work bench. In that garage I kinda specialized in tuneups and carburetor work on the side. At that time I had a 2.5 gal can of carb cleaner on the bench for 'dunking' disassembled carbs for cleaning. No one had ever accused me of being a good housekeeper so my tools were usually spread in disarray on the bench top with some hanging on pegboard on the wall above the bench.
One evening, as my freshly painted and rubbed Coupe was sitting in the garage, my brother came to me and asked if he could get some pliers from the garage, ok. Shortly afterward I heard a 'crash, bang' in the garage and kinda wondered what it might be. So, I opened the door and saw my 2.5 gal carb cleaner bucket on a wet floor and my brother trying to wipe off the cleaner which had splashed all over the side of my freshly painted coupe. Course the lacquer was slowly washing off with my brother helping it along trying to wipe it up.
To this day my brother still wonders why he wasn't killed.
Sometimes I wonder as well.