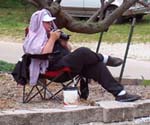 Carnut Hisself
I would like to thank all those folks who stopped by and said 'hello',
I really appreciate it. It helped make for quite an enjoyable experience for me.
Even after the troubles with my 40 Ford at the start of the trip.
I thoroughly enjoyed the show and all the cars.
Carnut Hisself